Recognition and Service Days

October 28, 2006 was Montgomery County Community Service Day and 12 individuals came to help clean up the grounds. Kimberley Davis was coordinator for Gelman, Rosenberg & Freedman, CPAs. We appreciate the contributions of everyone.





Fifteen organizations, businesses, and individuals were honored on December 1, 2006 with certificates for their help in achieving the first goals of making the Cemetery safe, attractive and maintainable. Mary Ann Barnes and John Higgins portrayed Luraner and James Higgins in a historical skit. The Awards ceremony was emceed by John Higgins and Margaret Welsh May. Certificates were presented to Chevy Chase DAR, Ernie Ashenbach, Lyle Torp, and Kensington Historical Society for their efforts to rescue and start to preserve Higgins Cemetery.




Our Fall 2012 improvement added corner stones on the 1927 fence boundaries. The Corner Stone Marker was Patrick Hall's Eagle Scout Project that had participation of Troop 90 and the Higgins Board.

Red Seneca Sandstone was donated from the Montevideo Farm where the original 1866 marker stone was likely quarried.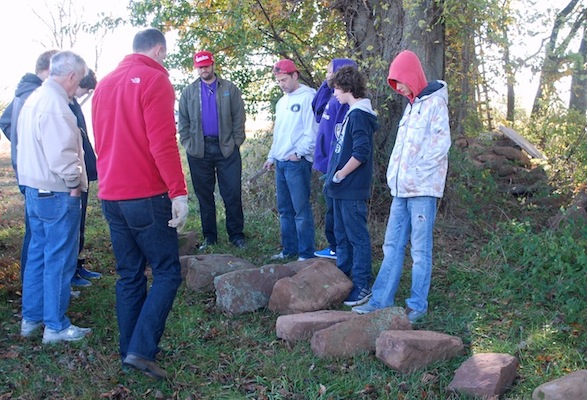 It was dedicated December 15, 2012 in a ceremony with Scouts, Chevy Chase DAR, and friends of Higgins Cemetery. The ceremony included honoring all veterens, including wreath-laying and recognition of participants in the stone project. A buglar opened and closed the ceremony.

Another Eagle Scout Project by Peter Dougherty of Troop 90, was the construction of a pathway across the Cemetery in 2009.
Red gravel stone was used to match the Seneca stone in the 1866 Higgins Family monument.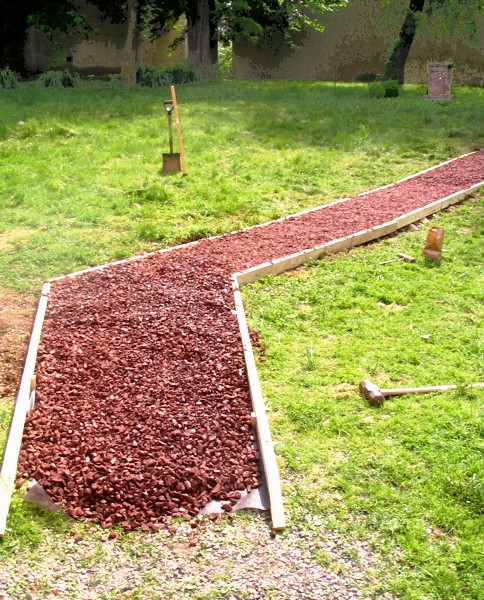 October 2015 members of Chevy Chase DAR and husbands (HODAR's) provided a needed cleanup for Higgins Cemetey.
There was a flag retirement ceremony after the work session.

Below is a link to a video of this day's events. Click on the photo.